Unnnggg! Unnnggg! Did you hear that? It's……It's….. a zombie game! Yes gamers, along comes another zombie game to add to your walking dead collection. With this quickly becoming saturated genre, it is up to the developers to create something different to distinguish them from the pack. With many zombie games becoming rehashes of the same old thing, the fun seems to have been sucked out of the genre, but from my experience with Dead Island, I have gained new hope for a genre which is a staggering zombie itself.
Welcome To Bloody Paradise
Getting lost in the forest on a tropical island is a scary enough, but throw zombies into the mix and you have a truly horrifying experience, but hey, at least the island looks beautiful.
Yes, even with blood splattered on the walls, and decaying flesh littering the roadways, the Island resort glistens in beauty. With detailed vistas containing bungalows, pools, forest, cities, hotels ect…, you really get a great non-apocalyptic feel, which really sets the mood for the game. Unlike many other zombie games which focuses on creating a dark decaying world that is meant to try to scare the player but instead does the opposite, Dead Island goes more for a real world feel that creates a better atmosphere.
With hordes of zombies occupying much of the island, you come across them often. They are very detailed, but because you come across them so often, the character design becomes quite repetitive. Granted, I did not pay much attention to how they looked because I was to busy removing their limbs.
Though the world is beautiful, it does not mean that it is without fault. There are quite a few graphical glitches that you will come across. There is a good bit of pop in throughout the game in which zombies would appear out of no where, or part of the map would not appear until I was right in front of it. There are also moments in which parts of the map would just disappear (though this did not happen often). Also, when there are large hordes of zombies, the frame rate would drop. But, overall the game looks and runs great.
Hey! I Just Found Something Awesome!
Techland decided to take a different approach with Dead Island. Instead of doing the normal first person shooter killing zombies thing, they decided to make this game a RPG, and a pretty good one at that. You choose a character in the beginning and as you play the game you will be able to upgrade your character by gaining XP from the zombies that you kill. This XP will level you up and you will gain skill points, which will allow you to add a new attribute. These attributes vary from causing more damage with one handed, two handed, and throwing weapons to upgrading your stamina, fury, weapon degeneration and many more things. It makes you want to keep playing the game until you are fully leveled up.
Another RPG element is the searching and plundering. You can search dead bodies, zombies, bungalows, lockers, cars and many other things to find the best items, weapons and health. There is so much to find on this large island that you will spend hours just looking around.
In Dead Island, you will find out quickly that your weapons degenerate and you will either need to find a new, better weapon or fix that weapon. Repair areas are few and far between so you need to be aware of your weapons damage and have a good backup. At these workstations, you can not only repair your weapon, but also, upgrade it. You can upgrade its damage, lessen its degeneration and other things. You can also modify your weapon by using different mods that you obtain. These mods can make your weapon even more deadly and satisfying to use.
I like the Hacking and Slashing!
These weapons and mods are great, but are pointless if the game does not play well, and this game plays great. With a first person view, you will be running around hacking and slashing away at the zombies. You can tell quickly that the game is based mostly around close quarters, melee weapons. You will not even get a gun until a descent ways into the game and that gun only has one shot. This is fine with me though because I have more fun using knives, and sticks versus a gun. There is not a more satisfying feel than cutting the head off of an incoming zombie.
The controls respond well and the button layout is pretty good. The stamina system allows for a more strategic type of play because you need your stamina to defeat the zombies. They also have a kicking action that allows you to fend off the incoming hordes, but I was a little disappointed that there was no stamina decrease when kicking over and over. They do not have to make it where you loose a lot of stamina, but at least a little.
The only problem I really found with the controls was that you will swing at a zombie directly in front of you and totally miss a few times in a row as they own you. I give them a good kick when that happens and then the attacking is fine. I am not sure if that is the way it suppose to be or if it is just a small glitch.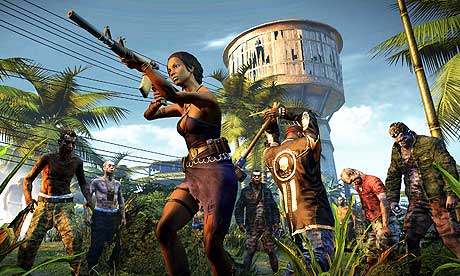 Killing Is Always Better With A Friend
The best aspect about the game is the wonderful 4 player co-op. It is easy to drop in and out of friends games, and find people playing in the same place you are. The game will let you know that there is a person in your area and ask if you want to join. It is a great feature for those who need help with areas (some parts can present a daunting task to complete without some help). I have played for hours with my friends just grinding it out against the undead.
The main problem I found was that the game would freeze every once and a while for one of us and we would have to restart our console. It is not a huge deal, but it did get frustrating when we were in the middle of a big mission.
Water Scale
Dead Island is an addicting first person RPG that will have you searching, killing and just having fun for hours. I can't remember the last time I had this much fun playing a game. I never once wanted to put the controller down. Sure the game's frame rate would drop at times with big hordes of zombies, and there are a few graphical issues, but there is nothing game breaking. It is just a fun addictive game that is worth playing.
8.0/10
Developer: Techland
Publisher: Deep Silver
Platformers: PS3, Xbox 360, PC